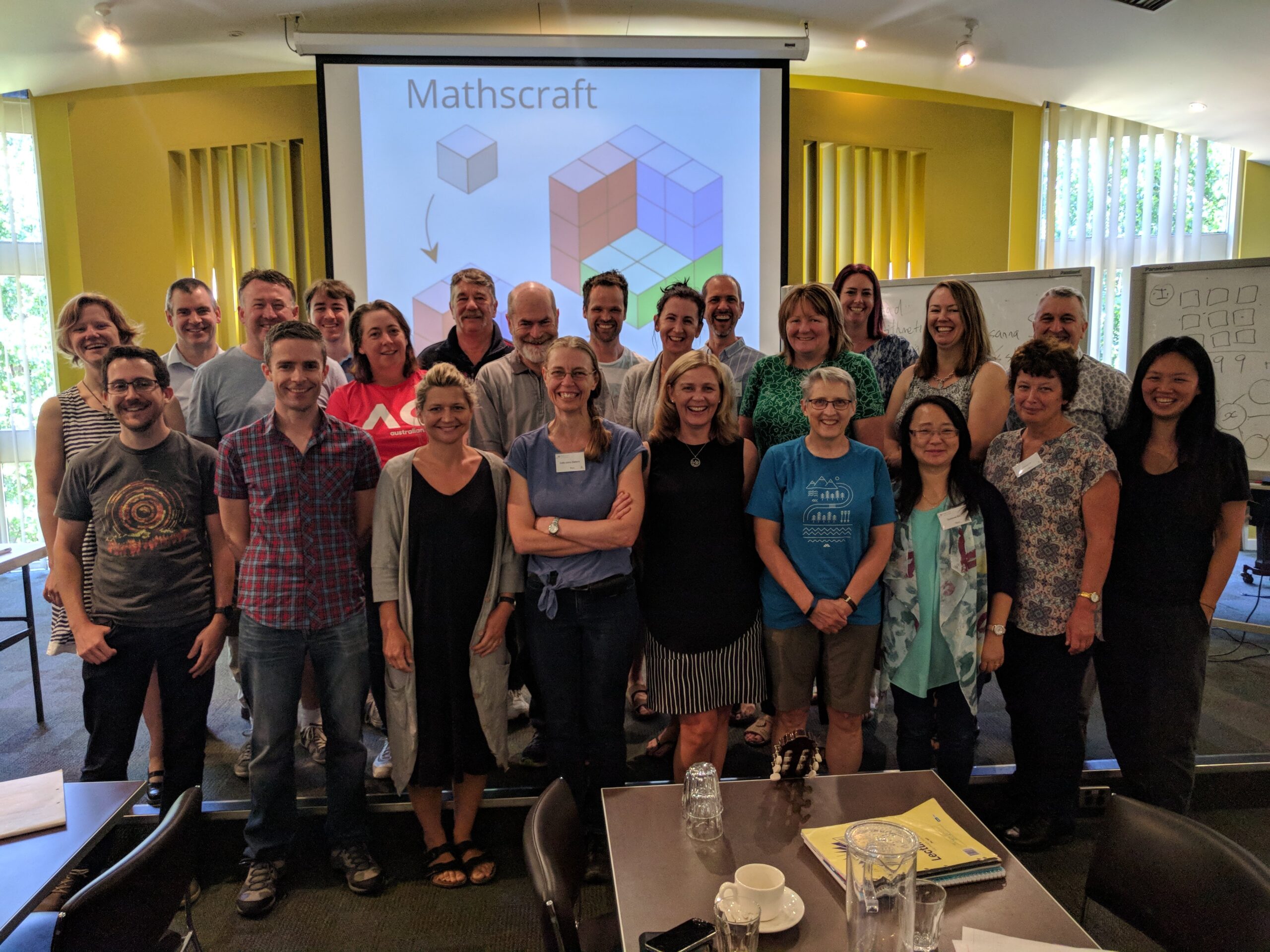 Immersive PD Workshop (5-Day Retreat)
Applications for this event have close. Join the waiting list here.
Enabling your students to work in a way that is similar to the way a research mathematician works can dramatically change the classroom experience, for the better. Would you like to find out how, for example, a topic like Pythagoras' Theorem could be approached a little differently?
This free immersive 5-day professional development event will give you more information about the MathsCraft program, and equip you to run MathsCraft problem sessions for your own class, as well as for schools in your local area.
What is MathsCraft?
In their work, research mathematicians do not generally sit competitions, have daily lessons or lectures, or study for tests and exams. So what do they do?
Among other things, they use previously learned facts and know-how to wrangle problems, problems which they initially have no idea how to solve.
They work at having lots of ideas, and train themselves to recognise the good ones from the not-so-good ones.
They work towards solutions, and try to become sure of those solutions, beyond all doubt.
In MathsCraft sessions, teachers and students get to do just this, in a supportive, collaborative, conversation rich environment. The MathsCraft session leader poses problems, provokes participants and builds an environment in the room that will prompt ideas. Those in the session gain an authentic experience of doing mathematical research, whatever their current level.
Read more about MathsCraft and its history here.
Who should attend this workshop?
This workshop is aimed at teachers of mathematics who:
Like mathematics;
Are generally inquisitive;
Are not afraid of problems that they can not solve;
Believe that students can have independent ideas about problems, if the problems are appropriate;
Are interested in learning how to help students develop their ideas into reasoned responses to the problem;
Want to learn more than they already know.
What you will get out of it / your commitment
This workshop will give you the knowledge and resources needed to run MathsCraft problem sessions. Sessions can be run for your own class, for students in your school, or as an event for schools in your local area.
The workshop will also cover how the approaches used in MathsCraft sessions can be applied more generally to the everyday classroom — it will include sessions that illustrate how topics like Pythagoras Theorem can be transformed into a research-like experience for students. It will introduce you to the MathsCraft Curriculum which may help you to do this.
This workshop is offered for free, on the understanding that you will run 4 MathsCraft activities in your own classroom or school in 2022 (one per term), and share with us a picture of the resulting whiteboards along with a brief description of what happened in the session.
This workshop addresses AITSL standards including:
2.1 – Content and teaching strategies of the teaching area
4.1 – Support student participation
6.2 – Engage in professional learning and improve practice
6.3 – Engage with colleagues and improve practice
Official Professional Development certification will be provided by the University of Adelaide.
Event Details
| | |
| --- | --- |
| Where: | Sevenhill Retreat, Sevenhill SA 5453 |
| When: | 1pm, Sunday 28 November 2021 – 1pm, Thursday 2 December 2021 |
| Cost: | Travel only (attendance and board is free) |
| Queries: | Anita Ponsaing <mathscraft@adelaide.edu.au> |
Feedback from previous attendees
"In all my years of teaching I have never learnt so much in the time available. I wish we could have more exposure to this type of learning/teaching."
"This event was likely more valuable than all of my previous PD combined."
"Amazing. Exhausting, fun, really really hard work…"
"I like the fact that we've been sent to bed each night struggling with at least one problem."
"In terms of the week I would say to others:
1) You will meet very clever people who are all there with the same purpose and who are highly motivated.
2) You will not talk anything social at breakfast or lunch because you will be obsessing over a problem that is bugging you.
3) You will get hardly any sleep if you get obsessed with a problem.
4) You will have a great time if you are interested in maths.
5) You will leave feeling like you can change the world."
About the facilitators